On or about Aug. 19th, I ordered the "Sample Soaps Gift Set" from
Kopah
which are all natural soaps made by the talented Candice.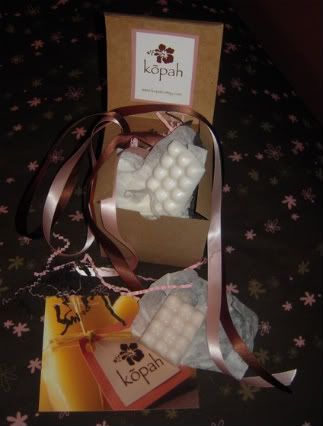 I had the yearning to emerce myself in a large body of aqua, which I mentioned in my
previous post
, hit me. Well thanks to tropical storm Fay, my plans to go to the pool were ruined.
But every cloud has its silver lining. Not even expecting anything in the mail this morning, my mother handed me the package that contained my order of Kopah soap. I squealed like a little girl on her birthday as I opened it.
The soaps are SO CUTE & smell ABSOLUTELY DIVINE! *sniff sniff* True soapaholic!
Since they are only 1 oz a piece, I will use a couple as guest soaps and the rest I will test in the shower. Too bad they were not labeled. It took my nose aka "the super sniffer" to decipher them. Which only took me a minute :)
I CAN HARDLY WAIT TO USE THEM!
I purchased the coconut, berry wine, lavendar, sandalwood vanilla and unscented.
Go check out
Kopah Soaps
. Every order over $15 is shipped for free!